By Charlotte Lowrie
Most photographers want to get the shot the first time, and that means getting it right the first time. That's great, but it doesn't always work that way. I found several places in a forest that made good photographic subjects, and the first day, I shot each area as well as I could. But when I got the pictures on the computer, I inevitably found things that I wish I had thought of during the time that I was shooting.
For example, deep in the forest, I saw a tree that had rooted from the center of an old cedar stump. As the tree grew, its roots never grew underground. Rather, they grew in air above and around the old cedar stump. It was unlike anything that I'd seen before. Although I only had a 100mm lens with me that day, I photographed the tree anyway.
I looked at the images as I processed them on the computer, and I realized that I hadn't really told the story of this amazing tree. So the next day, I decided to go back again and reshoot with a wide-angle lens and with a tripod. The light was very different on this day than on the previous day, and, in a forest, I know that long exposures are generally the norm. This time I could explore different angles and let the exposures go as long as necessary to get the depth of field that I wanted. The second day's images were much better and more satisfying, and I explored all angles of the tree's unusual root system.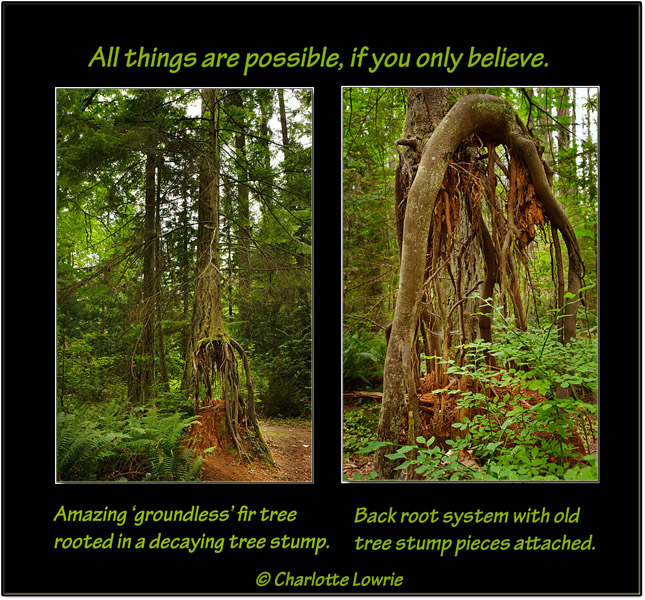 In addition, the second day's light was exceptional because the sun was filtering through a layer of smoke from wildfires that were burning to the north in British Columbia. As a result, the color of light was a golden bronze--all day long. As light played elusively through the trees, I was able to reshoot the same subjects in a unique light that could not be replicated.
There is value in getting it right the first time, but there is also value in going back a second time armed with more insight about the subject and with a more refined vision of how you want to photograph the subjects. And in this case, the light was stunning and unique. So don't be afraid to go back again, and be thankful when you have the opportunity to more thoroughly explore beautiful subjects.
Related articles: