By Charlotte Lowrie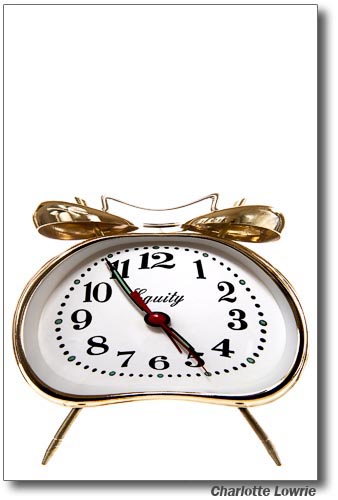 Part of the beauty of each new year is the opportunity to make a fresh start, to build anew on the foundation that was laid last year and the years previous. Truthfully, resolutions are only as useful as the commitment of the resolver in remembering and implementing them through the year, even as the year grows old.
Hope, however, springs eternal. And for 2011, I am making the following resolutions. You may glance at my list of resolutions and wonder why I chose so few. The answer is that I know from experience that a few well-designed resolutions have a far better chance of being completed than a laundry list of ten or 15 resolutions. And by having fewer resolutions, I can devote more time and attention to doing them well.
Resolution(n): "The state of being resolved or firm in opinion or thought; conviction; assurance."
I will begin two personal photography projects, and continue working on my Visual Poetry personal project. For most working photographers, the majority of daily photography is driven by client or project requirements. Personal projects provide the opportunity to explore subjects that appeal to personal passions, and they produce images that may or may not result in sales.

It's important to choose personal projects carefully. The best personal projects are those that stretch creativity and vision. The best personal projects fuel themselves, engendering new ideas and approaches as the work continues. The best personal projects produce a unified body of work--a progressive story with a beginning that reaches toward an elusive end. The best personal projects are exciting enough to get a photographer out of bed every morning at the first ring of the alarm clock. The best personal projects spill over into daily photography imbuing it with freshness and polish.


I will bring my daily photography to the next higher level. This sounds very vague, but I'll define it by comparing my work to the work of photographers who I admire, and then I'll identify specific elements that will move to move my work to the next level. With a minimum of thought, I know that I want to master portrait lighting both in the studio and on location. And off the top of my head, I know that I want to create a signature style for portrait work, and for my still-life shooting.


I will put words with my images. It's a rare creative person who works in only one aspect of the arts. For me, my other creative half is a passion for writing: a passion that burns as hot as my passions for photography. In recent years, writing has been centered on the books that I write. But for many images that I make, there is a story. While showing the "story" within the image is always my goal, I also want to wrap some images with inspiring and beautiful words.


I will delete all images that do not inspire or move me. This is as easy as it sounds: If I'm not moved by the image, it will not move anyone else, and it will go into the trash.
That is the crop of my resolutions. Of course, there is a risk in publishing personal resolutions for everyone to see, not the least of which is that if I don't achieve these goals, it will be plain for everyone to see. But the flip-side to that is that I will be accountable to all of you, and that provides excellent motivation to work on these resolutions.
I wish you all a very blessed, productive, and creative 2011!
Thank you for visiting the Words and Photos Web site.
Related articles: