By Charlotte Lowrie
With an array of great new features, it can take awhile to discover some of the shortcuts to using the Canon EOS 7D. Here are some tips and some of the accessories that I use with the 7D.
Save time by setting up AF point orientation so that the 7D automatically switches to the AF point you most often use in horizontal and both vertical (grip at the top and grip at the bottom) shooting orientations. The 7D also remembers the AF-Area selection mode that you've selected for each position.


Need to ensure a level horizon? Press the INFO. button until the electronic level appears in the viewfinder to help you align the line of the horizon. This is a great tool to use with Tilt & Shift lenses because it also shows pitch and roll to help square up vertical lines.


If you haven't gotten the hang of pressing the new M-Fn button to change the Area selection mode for focusing, then press the Q button to display the Quick Control Screen. Tilt the Multi-controller to highlight the Area selection mode item (third row, left-most item), and then turn the Quick Control dial to change the mode.


As a portrait photographer, one of my first moves was to enable the Spot AF Area selection for ultra-precise focusing on the subject's eye. Spot AF isn't one of the default Area selection modes, but you can add it by using Custom Function III-6. And to use Spot AF, you have to manually select the AF point.


Entering your personal copyright information is easy. Just go to the Set-up 3 menu, select Copyright information, and then select Enter copyright details to add your information.


For a series of High-Dynamic Range (HDR) images, try combining the 5 stops of exposure compensation with 3 stops of bracketing to get an 8-stops of exposure variance. Be sure to bracket by shutter speed rather than by aperture for HDR images.


To get quick access to Mirror Lockup function (Custom Function III-13), just add it to My Menu.


If you're like me, I most often manually select a single AF point for focusing. I've found the fastest method is to press the AF-point selection/Enlarge button, and then tilt the Multi-controller to select the AF point. This method is easier than using the Quick Control and Main dials to move side to side and up and down.


For lens calibration using Custom Function III-5, the LensAlign Focus Calibration system from Michael Tapes makes the calibration process precise and repeatable.

When the 7D is combined with the new Canon EF 100mm f/2.8L IS Macro USM lens, the results are exceptional sharpness especially at f/2.8 through f/11. The addition of Image Stabilization gives you approximately 1 stop of additional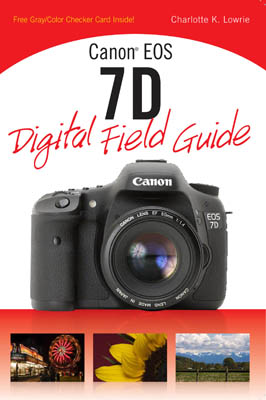 stability at close focusing distances and approximately 4 stops at longer distances.
Related articles:
Related online courses: